See on Scoop.it – Educational Discourse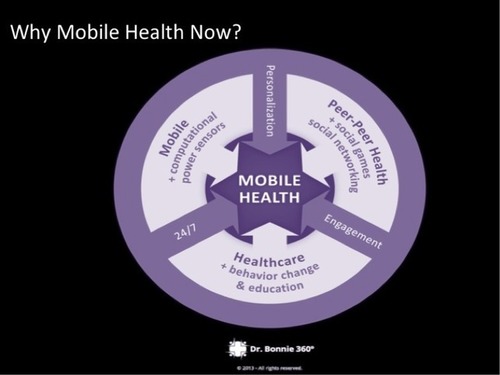 Cheaper, faster, better technology is enabling nearly one in four people around the world to connect with each other anytime, anywhere, as online social networks have changed the way we live, work and play. In healthcare, the data generated by mobilephones and sensors can give us new information about ourselves, extend the reach of our healers and help to accelerate a societal shift towards greater personal engagement in healthcare.
Mobile, Gamification and Sensors
Mobile is increasingly ubiquitous: With 6.8 billion mobile subscriptions, access anytime, anywhere through smart gadgets is now putting cheap and connected, mobile computing power in the hands of millions of consumers and healthcare practitioners.
Gaming is popular too: 121.3 million Americans (Figure 1) play mobile games at least occasionally. Now health apps are using games to improve health and wellness. Gaming elements are bringing deeper engagement, to improve compliance and make managing chronic conditions and complicated regimens easier.
Mobile sensors — accelerometers, location detection, wireless connectivity and cameras-offer another big step towards closing the feedback loop in personalized medicine.
There is no more personal data than on-the-body or in-the-body sensors. Sensors used to be exclusive to the laboratory (polysomnography) or hospital (EEG, EKG). Now, body area network applications can be used not only for fitness/wellness, but also to identify, diagnose and manage acute and chronic disease.
Online social networks (like Facebook, Twitter, and other social media apps), which offer peer-to-peer support, are another useful tool enabling this societal shift in healthcare. Nearly a quarter, 23%, of people with chronic illnesses, go online to find others with related conditions.
We see online social tools as a means to gather motivation and support health-related activities, similar in concept to Weight Watchers and Alcoholics Anonymous. As we all know, changing routines is hard. For some of us, adding the support of online social networks may help nudge our behaviors in a more positive direction.
Bigger Picture: Who Cares and Why?
In terms of Big Data, mobile health is a new frontier, contributing new streams of data such as behavioral, biometric, and environmental in real time. Combining these new data streams with EMR/ EHR data and giving patients/consumers access may enable us to make better-informed decisions and lead healthier lifestyles.
Mobile is extending the reach of our healers: healthcare providers, fitness coaches, and other supporters. Providers are in desperate need of better educational tools to improve efficiency and lower costs. Physical therapists, fitness coaches, home aides, occupational therapists, discharge planners, doctors, nurses, public health and other health educators are all interested in employing new ways to help patients understand their diseases and take better care of themselves.
Kelly Christopherson's insight:
For educators, accessing Big Data about/from learners needs to be considered as mobile learning becomes easier to access and takes hold in education.
See on drbonnie360.com